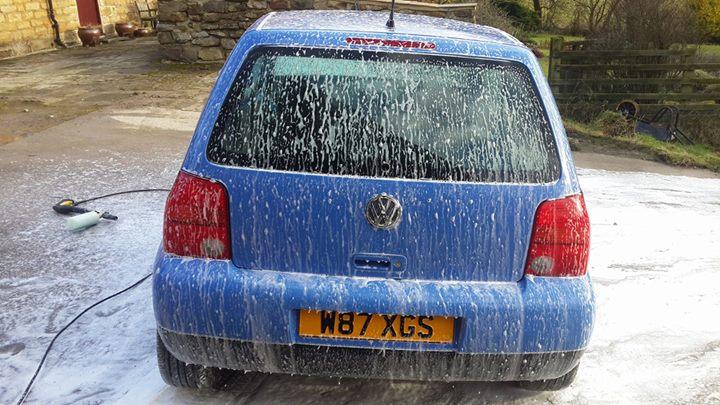 Content Count

16

Joined

Last visited
Everything posted by Lupo1.4 16v
Lupo1.4 16v posted a topic in Tuning

Thought I'd do a thread on my lupo and the work I have done, first thing to tackle was the common roof rust here's some pics.

The rear bench fits straight in with the original back rests that I died black and fitted vw beetle headrest. The fronts I welded on to the original lupo frames but want to tidy them up more before I get some pics. I would like to re-make a box section frame that the tt sits on better as the angle of the seat is slightly tilted which I like but want them adjustable.

Then came a deal I could not refuse a full set of Audi TT seats for £50, have not fitted the rear back rests yet. (apologies for the mess)

Then it was time for the winter wheels to get a fresh coat of paint this is how they looked after.

Before all this the car got a proper going over mechanical with new engine oil + filter, fresh coolant water pump, timeing belt, air filter, spark plugs, gearbox oil, throttle body was cleaned as well as fitting a new crankcase breather.

Didn't even get chance to take a picture of the front before the winter wheels went on.

Then I was time for some sensible lowering so got some TA 40mm lowering springs and dampers.

Found this pic of them when I bought them.

Then it was time for some proper wheels so to the rescue came some knackered but very cheap ronal turbos. I spend the next 3 weeks sanding and polishing the damage out off every wheel. The results where well worth it wish I hand taken more pictures of them before.

Took it to a car show totally standard very embarrassing!

Lupo1.4 16v replied to LR5V's topic in Tuning

Hi LR5V Really like what you are doing with the car, just wondering if you have any issues with the manifold being so close to the alternator. As I have just fitted a full stainless system and find the manifold is very close to the alternator and gets very hot.

Lupo1.4 16v posted a topic in Tuning

Right just thought I'd add my experience with the vw 1.4 16v AHW engine and tuning I'd like to start by saying I am aware these engine aren't very strong and can't handle loads of power reliable. I will also say I don't claim to know much about these engines but this is just my experience. I found the driving experience can be improved with only a few mods but first off give the engine a good service new oil and filter. Check the crank case breather and replace or clean as needed new spark plugs, check ht leads and coil pack for corrosion replace if needed. Then you want to find your self the inlet manifold, throttle body and air box off a polo 6n 100bhp. The reason you need to change the air box is because the throttle body is bigger you could get an induction kit but the standard air box seems quite good with a k&n panel and removing restrictions in the box it's self. I also remove the hot air intake in summer and refit in winter. I did not bother with the injectors but you could fit the 100bhp injectors as well. I found the car reves loads faster after 3.5rpm and even at low reves it seems to have more torque. For me this has transformed the car for less than £150 I also have a decat witch helps a bit but does not make a massive difference. I drove a totally standard lupo last week with a 1.4 16v AHW and it felt dead compared to mine and that's why I wrote this thread. My car has not been mapped yet so am sure more power will be found. The car took about a week before it had learnt the throttle body. When I first fitted the parts it idled really high and generally drove like **** at which point I nearly removed it all but after a week it was perfect. The egr need to be removed and blanked to fit these parts. My car is getting a full stainless exhaust system with a 4-2-1 manifold in a month and I would think this will improve it also. Then a remap my be in order.

Cheers weslangdon, totally forgot to mention brakes I have fitted lupo sport front brakes (256mm) that made a big difference. I have left drums rear as on a small car like the lupo I don't think rear discs do alot and drums are easyer to set camber on but if I had more power I'd get a gti rear beam.

Hi sausage, I know some one with a remapped tdi and can appreciate what you are say much better fuel economy and faster in most scenarios. But the hole point of this is to say that unlike everyone seems to think the 1.4 16v can actually be very fun to drive when setup correctly and when driving country back roads and taking corners at very high reves they stick like glue and explode out of them when kept in the power band in that sort off driving the tdi just won't be as much fun. For people like my self that enjoy tinkering with there cars it's a fun engine to work with.